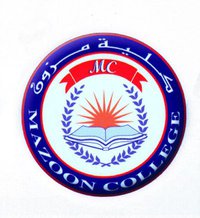 Mazoon College Partnership

Mazoon College, Oman
In 1999, Missouri S&T entered into an international affiliation agreement with Mazoon College in Muscat, Oman. For the last twenty years, the Office of International Affairs has provided administrative leadership, oversight and management of this international academic partnership. This long-standing partnership has enriched the international education opportunities for the students, faculty and staff of both institutions.
Under the original agreement, Missouri S&T assisted Mazoon College with the development and implementation of academic degree programs. This included the design of course curriculum for each degree program, faculty recruitment and hiring for the new college, and the development of administrative operations and policies to guide student admissions. Subsequent activities undertaken through the agreement ensured that the academic quality of the institution remained strong as additional programs and services were implemented.
Each year, Missouri S&T team members visit the Mazoon campus to conduct a program review and advise the college regarding areas of improvement. The visiting team generates a comprehensive report that highlights the growth of the university, makes recommendations to strengthen the academic programs, and identifies challenges and opportunities for the institution as it moves forward.
The partnership also includes student and faculty exchange programs, and study abroad programs that provide global opportunities for cross-cultural learning.