Rural Teachers Scholarship Fund
All children need high-quality STEM educators
Missouri S&T provides well-trained STEM educators to the state's public schools — many who serve in rural areas where a teacher shortage exists. Almost half of the more than 100 students enrolled in S&T's education program are Pell Grant-eligible and will graduate with debts to pay.
S&T's education department wholeheartedly supports the students who want to become great STEM teachers in rural areas, where their qualifications are in demand but their compensation is often below the state average.
"We're here to make sure we serve the state of Missouri by educating its children, regardless of where they live," says Dr. Beth Kania-Gosche, S&T's chair and professor of education. "Our goal is to empower the students who will leave us to teach in underserved
regions."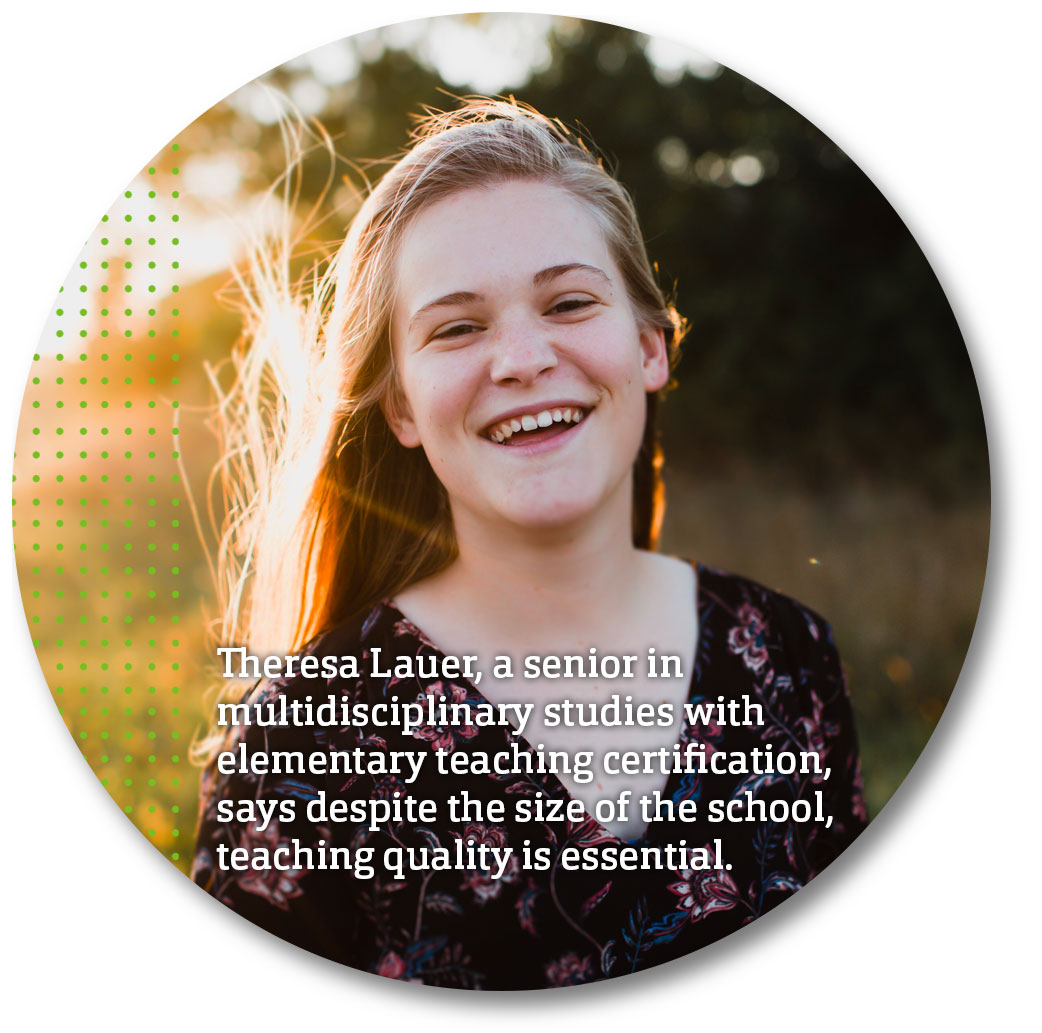 An aspiring rural teacher
"I attended a rural K-8 school for all of primary and middle school. I loved how close I was able to get with my classmates because of the small class sizes, and how well I got to know every teacher in the building. In ninth grade, I began attending school in a much larger district with high ratings. I wondered when switching schools if I would be behind because I was coming from a 'tiny' school with 'less resources,' but I realized, after the ninth grade, that I had incredible teachers at my old school who prepared me to be the student, and teacher, that I am today. It's not the size, but the quality that matters. High quality education can only occur where there are high quality teachers, both in credentials and heart."
Your gift to the fund will help provide our students with
Stipends to cover field experience transportation costs
Financial assistance for 16-week unpaid student-teaching semester
Professional development opportunities, such as Project Lead The Way workshops or the Space Foundation's Space Symposium
Fees for background checks, state-required examinations and other compliance requirements.
Support the Rural Teachers Scholarship Fund at give.mst.edu.
If you have questions or would like to make a contribution, please contact Matt Lehmann at 573-341-6944 or lehmannm@mst.edu.
Matt Lehmann
Senior Development Officer